The biggest question when considering hiring a professional moving service is how much will it cost? Finding a good austin mover can be difficult, but it doesn't have to be. Understanding how moving companies charge to move your furniture and boxes will make the process of finding a reliable mover that fits within your budget much easier. Below are some questions to consider before you start your search for a professional Austin moving service.
What is my budget for my upcoming move?
Should I pack my own boxes? Or can I afford to have a Austin moving service do it for me?
What days am I able to move? Do I have to move on a weekend, or is a move during the week possible for me?
Do I need all my furniture? What can I leave behind?
When do I have to absolutely have my items by? How long am I willing to wait for my items?
What do I need to have with me while I wait for the delivery of my items?
Austin Moving companies charge differently based on whether you are moving locally, or over a long distance(interstate).
LOCAL MOVES
Local Moves are charged by the hour. At Box Ox Moving, rates include fuel and taxes built into the rate, as well as the number of movers and trucks involved in your move. It is important to ask your moving consultant what exactly is included in the hourly rate, as this will help you make your decision as to which mover you choose as well as help you find ways to save money.
Your moving consultant will need a list of items from you in order to give you an accurate estimate of the time it will take to complete your move. While this may take some preparation on your part, having an accurate list ready for your mover will help eliminate easily avoidable mistakes when looking for a mover. Without an accurate lists of items to be moved, a moving consultant cannot accurately estimate how much your move will cost, therefore not only wasting your time but also possibly creating an unpleasant result when your move is finished and you see the balance due. Visual  in-home estimates are also available upon request.
LONG-DISTANCE MOVES
Long-distance moves are charged differently than local moves. This is because long-distance moves take longer to complete. You wouldn't want to be charged for every hour it takes for your items to get out to you in California! Because of the travel involved moving long-distance, the cost of your move will be based on the items you actually move. As with local moves, long-distance moves require an accurate list of items to be moved. Free in-home estimates are available as well if it makes the moving estimate process easier for you. Because you are not being charged for the time it takes to actually move you, certain obstacles that may occur while  moving you may incur an additional charge. Common charges include stair and elevator fees. Both stairs and elevators add time to your move. Stairs above the second floor will incur a cost based on how many items you are actually moving. Elevator charges are flat charges for the first ten floors(First two floors are free). Every additional set of ten floors incurs and additional charge.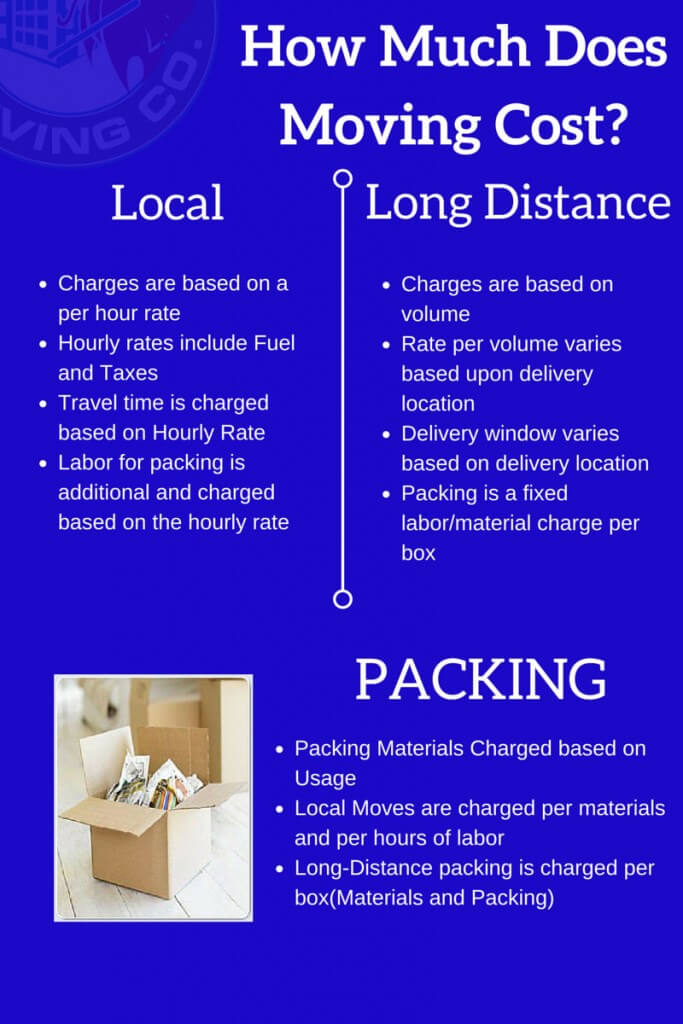 PACKING

Packing is charge differently based on whether you are moving locally or out of state. When receiving a packing estimate for a local move, you should receive the estimated costs for materials, as well as an estimated amount of labor charges to pack your boxes. When moving locally, ask if the amount of estimated hours of labor also include labors hours needed to pack your boxes. Depending on the size of your move, hours required for packing boxes can increase your move anywhere between 1-2 hours or even the majority of the day. For those very large moves, it generally makes more sense to pack all your boxable items the day before your actual move, that way the movers can just load the packed boxes and load your furniture on the truck the following day.
When moving long-distance, you still pay for the materials used to pack your items, just like you would when moving locally. The difference however, is labor to pack the boxes are a fixed price per box as well. For example, a book box is 4 dollars. To pack the book box is 7 dollars. Therefore the total cost of packing a book box is 11 dollars (labor for packing and the box itslef). It is done this way because long distance moves are charged per item, not per hour.
 As always, it is never a bad idea to ask your moving consultant as many questions as possible. Check out our moving guides for more helpful tips and things to think about when planning your move.
Summary
Reviewer
Review Date
Reviewed Item
Author Rating