Luminarias, trees criss-crossed with strands of colored lights, and boats carrying carolers turn the San Antonio River Walk into a festive destination every holiday season.
It takes just an hour and a half to drive there from Austin — and if you book a room downtown, you can walk or take a cab to the city's most famous attractions. We zipped down for a night, booking a room at the Omni La Mansión del Rio, a Spanish colonial-themed hotel that overlooks the hustle and bustle of the River Walk.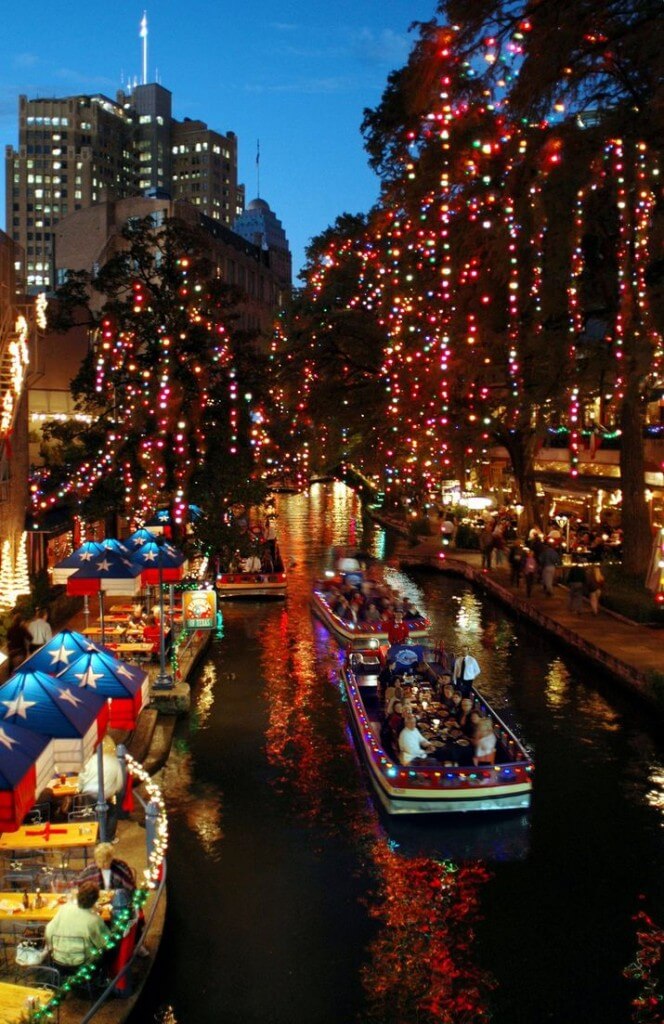 Highlights of our excursion?
A visit to Mi Tierra, a Mexican cafe and bakery in historic Market Square, where we filed through the long line in front of the bakery cases, picking out a box full of pastries and candy. The pan dulce here makes me swoon, as do the tiny powdered sugar-dusted pecan crescent cookies and Mexican fudge. Mission accomplished, we grabbed a table in the bar and celebrated our score with margaritas, chips and salsa.
Mi Tierra opened in 1941 with just three tables, serving farm and market workers. Today it seats more than 500 people, doling out TexMex staples like tacos, enchiladas and handmade tortillas 24 hours a day. Strolling musicians add a seasonal touch.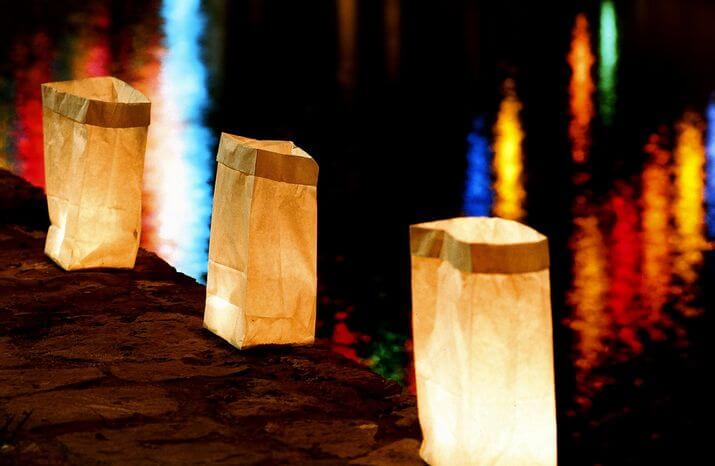 Take a few minutes to wander through more than 100 booths and stalls in a historic festive indoor market just out the back door, where shop owners sell blue-rimmed glassware, colorful woven blankets, inexpensive jewelry and curios. Musicians and dancers perform on a stage at the center of the hall.
Then stroll along the River Walk, glancing in shops along the way. But brace yourself — many are packed with tacky tourist stuff. For nicer goods, pop up to street level to peruse the galleries of nearby La Villita Historic Arts Village, one of San Antonio's earliest neighborhoods. There you can find quality artwork, jewelry, handmade pottery, copper dishware and intricate carved Oaxacan animals.
Then it's on to the Alamo, where every Texan should pay respect at the shrine where David Crockett, James Bowie, William Travis and nearly 200 others died in the March 1836 siege. The mood inside is appropriately somber, especially compared to the hustle and bustle outside. A giant Christmas tree in the plaza in front of the Alamo is decked out in basketballs, honoring the Spurs basketball team.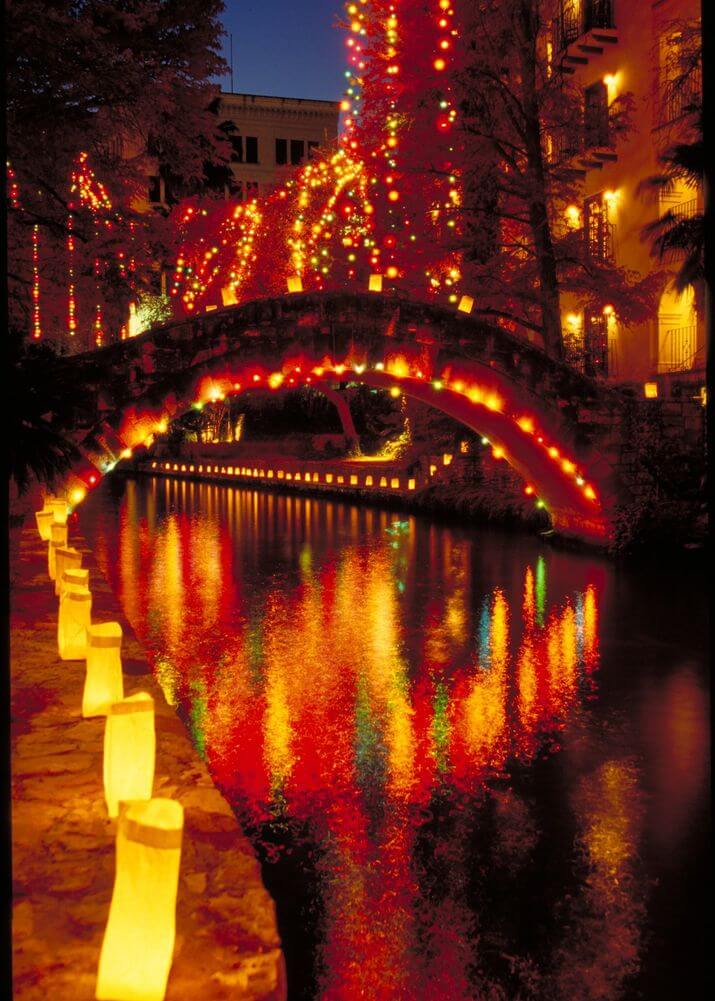 Holiday lights hang from trees along the River Walk.
Back on the River Walk, holiday boat caroling begins at 6 p.m. and lasts until 8:15 p.m. daily through Dec. 20. Schools, churches, civic choral groups and companies all putter along the river, serenading visitors. Luminarias, the traditional candles in paper bags, are lit at dusk Friday, Saturday and Sunday evenings through Dec. 20. (And lest you plan a post-holiday trip, be forewarned: The River Walk will be drained for maintenance between Jan. 4 and 9.)
For dinner, we decided to go Italian instead of Tex-Mex, figuring we have plenty of that in Austin. We wound up at Zocca Cuisine D'Italia inside the Westin Riverwalk Hotel, where we started with ginger-infused Moscow Mules at the bar, then settled into seats along the back wall, where we could see the River Walk lights as we dined. The best part of our meal came first: an appetizer of succulent diver scallops and a beet salad featuring both red and gold versions of the root vegetable. Meatballs and short ribs were solid, but not outstanding.
Afterward, we ambled back to our hotel room, where we crawled into bed and slept luxuriously late the next day.
Before we drove back to Austin, we headed a few blocks south of the River Walk, into the historic King William District. Breakfast tacos sell three for less than $4 at Tito's, but we opted for the chilaquiles and our favorite, the desayuno Mexicano plate featuring two eggs over easy topped with sliced avocado on Spanish rice.
Original post here