When you move into your new home, you want to start on the right foot. A big, beautiful, empty house holds endless possibilities. You can start from scratch with your decorations, organization, and cleaning habits.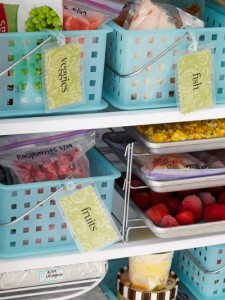 To get you started, we'll go over some of the most creative organizing tips around for keeping your knickknacks, doodads, and whatnots in their rightful places.
Kitchen
You'll prepare all your food in your new kitchen, so you want all your utensils and cookware at your fingertips. Use these tips to ensure that you can find everything you need at all times.
Use a Desk Organizer
Rather than stacking your pots, pans, cookie sheets, and cutting boards in a cabinet, separate your cookware with a desk organizer designed to separate files. You can place the organizers horizontally and vertically to maximize your available space.
Install Command Hooks
For easy food scooping, attach the self-adhesive tape on command hooks to food canisters. You can hang spoons to the canisters to easily scoop the contents of the canisters.
Use Colored Bins
Separate your garbage into "trash" and "recycling" using colored bins. Assign a specific color to each category so you can toss unwanted items in the bin without thinking. You'll save time and space by throwing your junk mail away right away rather than letting it build up on your kitchen table.
Bathroom
Your new bathroom won't be like your old one. You can organize all your odds and ends with these helpful tips.
Attach Magnetic Strips
Many of your bathroom appliances are metal, which makes magnetic strips an ideal organizational tool. Use the magnets to keep bobby pins, tweezers, nail clippers, and other metal items together. If you want to sort small plastic items, place them in transparent plastic containers with a washer glued to the bottom. The washer can stick to the magnetic strip.
Use Ice Cube Trays
Organize small items like earrings, safety pins, straight pins, rubber bands, and paper clips in ice cube trays in cabinet drawers.
Bedroom
You're ready to turn over a new leaf in your life so you can find all your clothes when you need them. Follow these tips so you can always find what you need.
Use Shower Curtain Hooks
Place shower hooks on the closet bar in your closet so you can hang purses, scarves, or belts from them. That way, your items are clearly visible at eye level, not in a pile on your closet floor.
Use Jewelry Boxes
When you get new jewelry, the pieces usually come in sturdy, fancy boxes. You don't want to throw them out, so use clips to connect the boxes together. The boxes create storage areas for your odds and ends. You can store jewelry, pens and pencils, makeup, makeup brushes, or office supplies in your drawers.
Use a Photo Album
Remember the extra thread and buttons that come with your new clothes? Keep them organized in plastic photo sleeves in a photo album.
Craft Room
You have a lot of projects going on, so when your creative juices start flowing, you don't have a lot of time to organize. In your new home, get started on the right foot by organizing all your supplies.
Use Hangers
Use hangers that have clips to organize your craft supplies. Clip plastic photo sleeves to the hangers and keep small items in the pockets. You can store scissors, gift tags, ribbon, stickers, stamps and stamp pads, and even tape in the sleeves.
Use a Dish Rack
Organize books, drawing pads, and other art supplies in a dish drying rack. Place the books between the wires. Store colored pencils, crayons, markers, and paint brushes in the utensil caddy.
Use Binder Clips
Store your paint tubes on a cork board by hanging binder clips on push pins. You'll be able to see each color right when you need it, and you can even use the binder clips to squeeze the paint out of the tubes.
Office
Whether your home office is your oasis or your primary place of business, you'll feel more relaxed and focused if you can find everything you need at once.
Use a Metal Basket
If you're tired of getting your power cords tangled or accidentally turning off your computer with your foot, tuck your power strip out of sight. Mount a metal basket to the bottom of your desk and place the power strip inside.
Use Velcro Tape
You could buy a cord organizer, or you could buy Velcro from a craft store. Wrap the Velcro around the cords to keep them neatly arranged. You can wrap the Velcro around the leg of the desk.
Use Shoe Racks
For instant shelves on your desk, place shoe racks on the surface of the desk. You can place books, journals, pens and pencils, or other items on the shoe rack.
Want More Tips?
For more moving and organizational tips, check out our blog for regular updates.