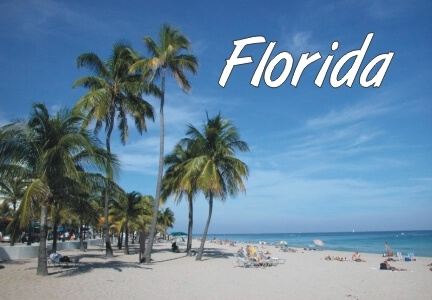 Florida's Best Beaches
Whether you're moving to Florida or just visiting, no trip is complete without visiting one of Florida's many beautiful beaches. But which one should you choose? Take a look at the list below to learn about some of Florida's best beaches and why you should go!
Clearwater Beach. The name says it all. Located on the Gulf of Mexico, this beach stays at a balmy 73 degrees, with white sand stretching for 2.5 miles. In 2013, Clearwater Beach was named Florida's Best Beach Town by USA Today readers. When you're not out in the ocean, take a stroll or bike ride along Beach Walk, where you'll get the true "beachside" experience, with shops, restaurants, and activities for all age.
Naples. Also located on the Gulf Coast, Naples is more than 10 miles long. You will love the clean, pristine white sand, as well as the fishing pier that extends 1,000 ft. into the Gulf! The pier is great for watching sunsets and of course, fishing. When you're not at the beach, try out one of the more than 80 championship golf courses in the area. Naples is self-titled the "Golf Capital of the World," so it's a great place to work on your tan and your swing!
Pensacola. Located on Santa Rose Island, this natural stretch of land features one of the longest piers in the Gulf of Mexico – Pensacola Beach Pier – which stretches 1,471 ft. You'll also enjoy Portofino Boardwalk, with lots of shops, restaurants, and even shallow water for the kids to play in. You can enjoy both sides of the beach, which makes it an ideal spot for biking, snorkeling, and kayaking. There is truly something for everyone in Pensacola, and maybe that's why it's considered one of the best beaches in Florida!
Fort Lauderdale. Adjacent to the Atlantic Ocean, this beachy area has gone from a hoppin' college scene to a relaxed beach perfect for families. The seven mile stretch of sand is plenty of space for building sandcastles, playing beach volleyball, or just basking in the sun. You'll also enjoy the Fort Lauderdale RiverWalk nearby, with sidewalk cafes, plenty of shopping and fun activities for the kids.
Miami Beach. Whether it's the glitz and glam of South Beach you're in need of or just some waves and a cool breeze, you'll get breathtaking views of the ocean no matter where you are on this beach. Take in the views of the ocean, but also be sure to view some amazing art pieces in Miami Beach's Art Deco Historic District.
What do you consider the best beaches in Florida?
Let us know which beaches you think are best in Florida. We would love to hear from you! And remember, if you're moving to a beautiful Florida beach, be sure to start getting moving quotes now.