We live in a do-it-yourself kind of world. From home improvements to tech gadgets galore, there's not much we can't at least attempt to accomplish on our own, and for a lot of folks, moving is one of those things. While hiring a professional mover can often be the wiser (and, surprisingly, cheaper) choice, a majority of people prefer to pack their own belongings instead of opting to let the pros do it. If that's the case for you, don't lift a finger before reading these five quick tips from the top-notch team here at Box Ox Moving to keep your stuff — and your sanity — in one piece before, during and after a move.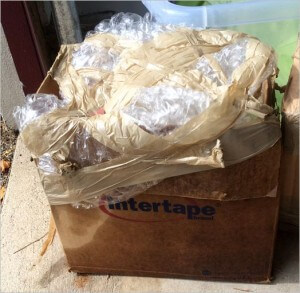 1. Don't procrastinate
This one's easy to preach but hard to live by. Truly, though — if you've got a full weekend to devote to getting ready for the move, use it. It may not seem like a big deal to "just throw everything into a few boxes," but many are the men and women who have underestimated the time it takes to properly prepare themselves to move their entire lives into a completely new living space. Make a game of it if you have to: set an egg timer for 30 minutes, an hour, or whatever length of time you'd like, and challenge yourself to pack up 5 boxes, or an entire room, or whatever your goal may be. Repeat, and repeat again, until poof! You're all done.
2. Ask for help
The Beatles most famously said, "I get by with a little help from my friends." They said a lot of other stuff, too, but when you're faced with a mountain of boxes or crates and a looming move-out date, it's probably the best advice you could follow. Use these tips for throwing a packing party and get the job finished in one-third, one-fourth or even one-fifth the time it would have taken if you'd gone it alone.
And a pro tip: if you're having trouble finding boxes and/or don't know what to do with them when you're through, you're just one Google search away from the eco-friendly option of renting plastic crates. Many companies offer delivery and pickup, and they're often cheaper than buying cardboard. The planet and your wallet will both thank you.
3. Label and color-code everything
Once they're on the truck — whether it's one you rented and are driving yourself, or one operated by moving professionals — most of those boxes are going to look awfully similar to one another, if not completely identical. Particularly if your move is a large one, don't just scrawl the name of the room each box belongs in; add a few short bullet points afterward (coffee mugs, utensils, tupperware or textbooks, tax files, stationery, for instance).
Better yet, consider using a different color packing tape (or just spread a line of washi tape across a few sides of each box, again switching up the color or pattern for each room) for each room, just to make the load-in process that much easier, as well as the act of keeping your sanity as you try to get out of those boxes as quickly as possible in your new place.
4. Protect your breakables
This may sound elementary, but when you're in the eleventh hour and don't much care to spend extra time carefully wrapping those valuables, it's all too easy to forget how much jostling (and bumping, and cracking, and shattering) just might take place during transit. So do yourself a favor and pack with an abundance of caution, making merry use of specialty boxes (wardrobe, wine glass, etc), bubble wrap, paper, and any other materials that can shield your possessions from destruction between your old home and your new one.
Oh, and we've got special tips to keep you sane and your stuff intact if you're packing electronics or fine china. You're welcome.
5. Don't pack immediate essentials
Packing up that bathroom with one big swipe of your arm across the counter top? Not so fast. You're gonna need toothpaste, face wash, daily meds, and so on within the first 24 hours of moving into the new space, so leave those out where they're easily accessible. Likewise when it comes to Fido's food, leash and waste bags, as well as plenty of other items you might need to access during or shortly after the move.
Last but not least, if you're hiring a mover for a local or long-distance move, let Box Ox Moving help. We compare prices, help you secure the best mover for the job, and lock in your rates so you're not hit with any surprises in the middle of one of life's most stressful events. Don't go it alone. Let us help.