Backyards. For some of us, they hold endless possibilities, and for some of us, they just mean extra work. With some effort, you can make the most of a new backyard by transforming that little slice of earth into the private oasis you've always dreamed of, or at the very least, a low-maintenance area that isn't a total eyesore. Either way, Box Ox Moving's here with a roundup of tips and tricks to help you out. Whether you're looking for a quick spruce-up or a total overhaul, check out these smart backyard ideas: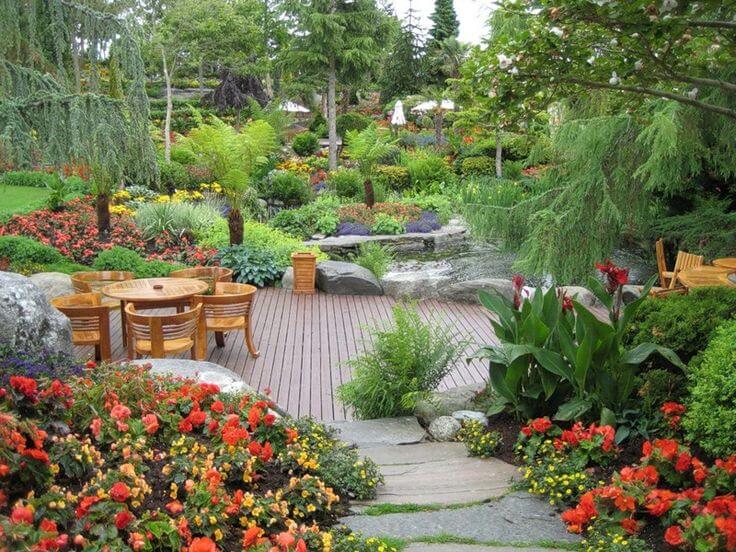 Plant some flowers
Just because you might not have the greenest thumb of all doesn't mean you have to sacrifice awesomeness. If you're trying to go the minimalist route in terms of effort, give a blooming lawn a whirl. Gardenista offers grass replacement ideas including Fleur de Lawn (a product of Oregon State), a mix that produces low-growing perennial flowers that change with the seasons. Some well-placed flower mix, meandering pathways, and voila! You've got yourself one beautiful, low-maintenance cottage enclave for a backyard.
Attract some birds
Another nifty idea for your new outside abode is turning it into a bird watcher's paradise. Even if you're not a bird enthusiast (perhaps you simply enjoy being close to nature and hearing soothing chirps in the morning), you can easily attract all kinds of wild birds right to your backyard by providing these four basics:
Food. More diverse food means more diverse birds. You can provide food either naturally through particular flora or through bird feeders. Seeds, nuts, and fruit are a good place to start.
Water. Flowing water is the way to go since birds can hear it from a distance. Just make sure to steer clear of any treatment chemicals, which can harm the little critters.
Shelter. Birds won't hang out where they don't feel safe. Shrubs, trees, and perches for scanning the area are essential, especially near feeding spots.
Nesting sites. If you want your feathered guests to become permanent ones, offer them a good spot to set up shop. Shrubs and trees are great, but good old fashioned boxes and birdhouses will do the trick too.
Read more on hosting birds in your backyard here.
Grow some veggies
A backyard vegetable garden lets you get closer to your food, and maintaining it offers a communal bonding experience for you and those you live with — plus you literally get to enjoy the fruits (and by fruits, we mean vegetables) of your labor. Don't worry if your soil isn't ideal — raised garden beds are a great solution. Check out Apartment Therapy's guide to beginning a garden and start dreaming of all the delicious veggies you'll have.
Save some dough
Whether you're trying to minimize the damage to your wallet or you just have a penchant for crafting, these DIY ideas are sure to delight. They offer instructions on how to:
turn an old chair into a one-of-a-kind yard swing
make a windchime out of old keys
add marbles to fence posts for some extra glimmer
turn old wine bottles into homemade tiki torches that repel bugs to boot
From backyard inspiration to inside info on short sales and foreclosures, Box Ox Moving's got your back. We take a video of your stuff at your convenience and get you guaranteed prices for your move. The coolest part: we stick with you (and fight for you!) the whole way through to make sure your move is nothing less than delightful. Get started with by giving us a call or visiting our site — we'll get you chatting with a Move Coordinator instantly!