If you're considering buying a foreclosed property or one that's a short sale, your motivation is pretty powerful: the chance to get a below-market bargain on the home you've always wanted. Buying a foreclosed or short sale property may be the right way for you to go, but not until you've done your homework and gotten the advice of both real estate professionals and the folks who have actually bought their homes this way. Fortunately, the Box Ox Moving team is here with a quick reference guide to help you know what's what.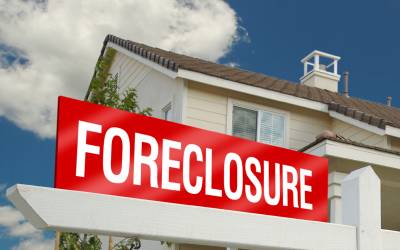 What's the difference between a foreclosure and a short sale?
First, an explanation of the difference between a between a foreclosed property and a short sale. A foreclosed home is one that belongs to the entity that holds the mortgage — usually a bank — and is ready for sale as soon as the legal foreclosure procedure is complete. A short sale is a deal that can be arranged before the property goes into foreclosure, at a time when both the lender and the borrower agree that this kind of sale (one that generates proceeds that are less than are owed on the property) is preferable to a default on the mortgage.
"Buying a short sale or foreclosure is risky but well worth the risk as long as buyers are informed ahead of time and prepared to take it to the finish line," says Alexis Moore, VP of a Realty Group in California.
John O'Brien, an attorney in Chicago with experience in both kinds of sales, sums it up this way: "The chief advantage to either type of purchase is that the buyer will generally get the property for below market value. The biggest disadvantage to buying a foreclosed property is that you are normally buying it sight-unseen — you can't walk through it or have it inspected by a professional before you buy. The biggest disadvantage to buying a short-sale transaction is that the buyer will have a long wait, often for many months, while the seller's lender decides whether or not it will accept a short payoff."
Daren Blomquist, VP of RealtyTrac and Editor of Foreclosure News Report, offers an overview of the market: "There are currently about 500,000 bank-owned foreclosures nationwide, which may seem like a lot, but is down from more than 1 million at the peak of the housing crisis. Meanwhile, there are about 800,000 properties in the foreclosure process where the homeowner may be very interested in selling via short sale, and on top of that there are more than 11 million homeowners nationwide who are underwater on their mortgages and so would need to sell via short sale if they decided to list their home for sale."
In his opinion, buying a foreclosed home (often referred to as an REO, short for "real estate owned"), is probably the better route for most buyers and investors. "The transaction is less complex than a short sale because you're dealing with just one party (the bank selling the home) rather than multiple parties with a short sale — the homeowner in trouble, the bank holding the first position mortgage and possibly another bank or two holding second or third mortgages."
Rachel Wolfinbarger, who bought a short sale house in southern California about a year ago, is a huge fan of the short sale. "We got a great deal!" she says. "We bought our house for $255,000 with a 3.5 percent downpayment, and it is a beautiful home. There was a standard sale across the street from us that wasn't as nice as our home, and it went for $270.000 two months after we bought ours. One down the street just like ours was just flipped for $325,000."
Wolfingbarger admits that a lot of patience is needed, as well as an agent who understands what you want and can negotiate for you is an absolute necessity. "There were photos of our home on the MLS. but we were not allowed to look inside before we made our offer which was made 'subject to interior inspection.' We could have walked away from the offer without losing anything but it was still a bit scary. We were lucky — we loved what we saw. "
To kickstart your research, here's some advice from professionals — lawyers, brokers and consumer advocates — with experience in both foreclosures and short sales:
Foreclosure pros
The time it takes to complete the deal is shorter than for a short sale. For someone who needs to make a move in a relatively short time, a foreclosed property is better than a short sale. Ehren Alessi, a real estate agent in Las Vegas, reports that "a majority of buyers writing offers on foreclosed homes will receive a response within 48 hours…. The terms are ironed out within a couple of days and closing can take place in under 30 days, depending on what financing options the buyers choose."
According to Blomquist, "In buying a foreclosure, you are dealing with a motivated and unemotional seller whose primary goal is to sell and sell quickly. With a short sale you may be dealing with a homeowner who has mixed emotions about leaving the home and that can contribute to slowing the process down."
The price is right. "If you have a strong stomach for the 'as is' factor, you can get a great deal with a foreclosure," according to Kelly Ringston, an attorney with Braverman Greenspun in New York, who has had many years of experience with both foreclosure and short sales. True, she adds, the 'as is' factor is a lot less scary "for a penthouse apartment in New York than it might be for a home in another part of the country."
The property is lien free and the title is secure. "Buyers of foreclosed properties don't have to worry about paying off liens or incurring any seller-related expenses. It's the bank's responsibility to provide free and clear title upon closing. Buyers also needn't worry about the terms of the offer changing throughout the closing process. And some banks may pay up to 3 percent in buyer's closing costs," according to Alessi.
Foreclosure cons
There's one and it's HUGE: the 'as is' factor. Blomquist warns that in many markets, the bank-owned homes are "of the scratch and dent variety that tend to require more work and that have been picked over by other buyers or investors."
Alessi makes it sound a lot scarier: "Foreclosed homes are sold as is; the bank will not pay for or repair any condition-related issues, so buyers need to be prepared. Most foreclosed homes have been vacant and neglected for a long time…. Dead landscaping, stolen pool equipment, neglected maintenance and vandalism can all be extremely costly. There have been incidents of squatters occupying vacant foreclosed homes, and evicting them is time consuming. In some cases, squatters or the previous homeowner will have damaged the property upon vacating."
Short sale pros
Short sale properties are often in good condition. Alessi's experience has been that, in Nevada, "a majority of short sale homes are occupied by homeowners who upgraded the property with the intention of making it their dream home." Also, homeowners are usually still living in the property, which means the utilities are still being used and the property is being maintained.
Banks are more willing than ever to short sale rather than foreclose, and negotiation is possible. Alessi thinks this is "the perfect time to purchase a short sale, mitigate a loss for the banks and buy a great home. Working with a knowledgeable buyer's agent will increase your chances of negotiating a great sales price with the bank."
It is key when contemplating buying a short sale to have a seasoned negotiator. Mike La Cava, a Massachusetts-based real estate investor who runs the website House Flipping School, says you need to "find out how many deals he or she has done and ask for references. Make sure that the short sale negotiator, w hether it's an attorney, real estate agent or third party, knows exactly what they are doing."
Short sale cons
The process takes lots of time. Doc Reiss, a broker in Washington state, tells this tale: "At a conference a few years ago, the CEO of Bank of America addressed an audience of real estate professionals. He said, "We can approve a short sale in three weeks." From the audience came the question: 'Three weeks from when?'"
And therein lies the problem. When you enter into a short sale, you're committing to a process that can and often does take months with no assurance of results.
Reiss' last short sale took five months before an answer came, and the response was an offer $45,000 above the listed sales price.
Brian Horan, owner of California-based Kilbourne Properties, says that most of the people in short sale departments of banks are overwhelmed and "handling more files than are humanly possible. Each lender handles short sales differently, and they never define the timelines on their procedures. "
You may have to increase your offer in order to close. The short sale offer is not valid unless the lender approves it, so you have to be prepared to increase your original offer if you're serious about closing the deal.
Liens on the property can kill the deal. Now working as a Certified Default Advocate, Lindsey Kinnsch Michael oversaw 25,000 foreclosures in her former life as a bank manager. She cautions: "There may be as many as three mortgages on the property, it could be a blanket loan on several homes, there could be old liens on the property…" and the list continues.
Sarah Finnegan, Short Sale Manager at Cogburn Law Offices in Las Vegas, stresses how important it is to have someone experienced. "Check public records — find out what is owed and how many mortgages there are," she says. "Find out if the current owner has liens, such as HOA dues, private party liens, pool or home improvement liens, unpaid trash and/or sewer fees — all these need to be negotiated before the title is clear and the short sale can be closed. HOA liens can lead to a foreclosure before you ever close on the deal."
The emotions of the seller can be a problem. "You may be jumping through hoops for months while the seller just can't accept the reality that the house is simply not worth as much as they think it is," cautions Gloria Shulman, founder of Centek Capital Group.
LaCava reminds potential short sale buyers that they're dealing with a homeowners "who are in pain, who are losing their house and ultimately moving when they don't want to, most of the time losing money that they had put into the property. "
Lowball appraisals can raise the price at closing. Shulman warns that current appraisal regulations are forcing appraisers to evaluate homes in areas where they have little knowledge. You might be thinking your short sale is a good deal, but the appraiser might be using a house that is further underwater than the one you want as a principal comparable. This could blow up the entire loan or force you to come up with thousands of dollars more at closing."
Ultimately, there are quite a few angles to consider when looking at a possible foreclosure or short sale as you conduct your home search. Whichever route you choose, though, Box Ox Moving stands ready to help you move into whatever home you make your own. Let us take your inventory, compare moving quotes and get you the best deal possible with the best mover out there for you. The best part: our quotes are free, just like our advice.