Moving to Texas
With 10 climatic regions, it's safe to say that Texas is a diverse state. Whether you're moving to the Texas Panhandle, the Gulf Coast, Hill Country, the Prairies and Lakes, The Piney Woods, the South Texas Plain, or to Big Bend Country, Box Ox Moving can deliver to all regions.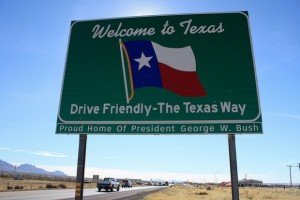 While it may take other moving companies at least 10-14 days to move your belongings, Box Ox Moving can move you virtually anywhere in the U.S. within 2-5 business days. Not to mention that you can track your shipment 24/7 online or by phone. In fact, Box Ox Moving's quick and reliable service is backed by our excellent reputation. Get a free moving quote now to see your estimated transit time.
Whether you've got a lot of stuff or just a little, Box Ox Moving can handle any size when you move to the Lone Star State.
Here are some extra perks that Box Ox Moving customers love:
You only pay for the time we are moving you (no trip or fuel fees)
There is no deposit or down payment for your move
Box Ox Moving's employees are trained uniformed professionals
There are countless places to see and things to do in Texas. It's always helpful to know why Texans make such a "big" deal about their state, and who knows, you might just be doing the same once you've experienced Texas for yourself.
Not everything is bigger in Texas
With Box Ox Moving, your move to Texas doesn't have to include a big price tag just because you are moving to a big state. Box Ox Moving offers several different moving options and many ways to save. According to a recent Box Ox Moving post-move survey, 79% of Box Ox Moving customers chose to move with Box Ox Moving because of the price.
So if you're moving to Texas, what are you waiting for? It's time to save "big" by using Box Ox Moving to get you there. Get a free moving quote now by calling 512-861-8707.