Although buying or selling a home can be an exciting adventure, it's also a time-consuming (and in the case of the former, expensive) process. So, when it comes to selecting a person to oversee the purchase or sale from your end, knowing how to find the right agent is key to your success and your sanity. At Box Ox Moving, we've helped lots of folks move lots of places, and especially for first-time home buyers and sellers, we've got some pointers for choosing the best person for the job.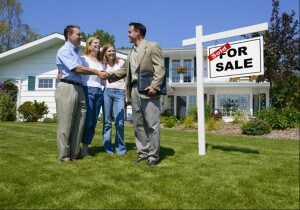 Realtor vs. agent vs. broker
The National Association of Realtors (NAR) reports a total of 4.87 million home sales (not including new construction) in 2013. That's a lot of bricks and mortar, and an awful lot of negotiations, inspections and paperwork to go along with it. Luckily, the US has around 2.5 million agents and brokers to choose from, about half of whom are NAR members, or "Realtors." It's important to note that all Realtors are agents or brokers, while not all agents and brokers are Realtors; the distinction comes with NAR membership. Some agents, for instance, may work exclusively for a developer and may not need access to the MLS (the national database which is run by the association and used religiously in most home searches). So if you've got your heart set on a pre-construction condo in a particular building, for example, you may not need a Realtor, and the developer's sales agent might be just fine for you. If you're doing a broader home search or sale, though, your best bet is to go with a Board-certified Realtor who's held to the professional standards of their peers, and who can use the MLS to get up-to-the-minute info on homes in your market.
Oh, and a broker? That's simply a term for a person who passed his or her state's broker exam and owns (or has owned) a real estate business.
Use word of mouth
It could be argued that the best Realtors and agents bring in the majority of their clients through word of mouth — like any other industry, the proof is in the pudding, and satisfied customers are often a great indicator of a professional's value. If any friends or family members have bought or sold a home in your city or town in the past few years, ask them who they worked with and whether or not they would hire them again. Bear in mind, of course, that different agents have different areas of expertise and levels of familiarity with different parts of town and types of homes, so make sure that weighs in on your decision as well. The agent who found your parents their dream retirement home on the outskirts of town might not be the best choice to help you snag that trendy loft downtown, and vice-versa, so be sure to balance personal recommendations with other professional strengths.
Weigh your options
Real estate agents are, first and foremost, salespeople, so it's their job to convince you to buy something. If you're buying, the best agents won't force you into anything beyond your price range or ask you to change your home search parameters unless you're genuinely asking for the moon with nary the money to pay for it. A qualified professional will take your priorities into consideration and offer suggestions based on what you want — not what they want for you. And if you're selling, the best agents will give you realistic advice on the kind of figure your home can fetch and why — after all, if you don't make a purchase or a sale, there's no benefit for them in the end.
To determine an agent's communication style, compatibility level and depth of experience, it's important to research them online (Yelp and Angie's List are often great resources) and in person. If you don't find someone based on a friendly recommendation, use a home search tool like Zillow, Trulia or Redfin to locate open houses in your area, and then take a day or two to visit some. Talk with the agent at each home and, if you're interested, dig a little about their experience buying or selling the sort of home you're looking for or looking to sell, find out how long they've been practicing real estate, and ask them for references. Generally, the more closings they've got under their belt, the better. You can ask for a list of their recent transactions to get a sense of how busy they are — not to mention how familiar they are with homes like the one you're hoping to get into or out of.
Next, when you've narrowed your agent search down to two or three top candidates, invite them out for coffee or lunch to get to know them a little better. Take this list of homebuyer questions with you to help you along. And a pro tip: if you can meet them during business hours on a weekday, it may be easier to spend a bit more time with them and command their full attention, as their early evenings and weekends are likely filled to the brim — hopefully, anyway — with open houses and client appointments.
Trust your gut
As in any situation where loads of money are concerned, your instincts shouldn't be ignored. If someone looks great on paper but just feels strange or disingenuine, pay attention to your sixth sense. If someone hasn't been practicing for very long but seems particularly sharp, ethical and dedicated, it might be worth giving them a chance. Do your due diligence in checking out your options before you settle on anyone in particular, and hold them to a reasonable professional standard when it comes to giving you honest answers, providing valuable insights and being consistently available throughout the entire process.
And once you're ready to move into the home you've purchased or out of the one you've sold, Box Ox Moving can take the stress out of the process, securing the best moving services at the best prices and making sure to have your back every step of the way. Isn't it nice to have good people on your side in a stressful situation? We think so, too. That's why we're here.