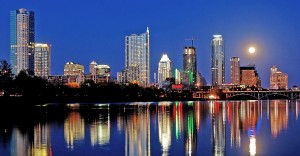 Austin is located in Central Texas and is the capital of the state of Texas. It's the second largest state capital after Phoenix, Arizona, and is one of the biggest cities in the USA. There are more than 900,000 people living in Austin. It is an interesting place to visit and a nice city to move to, offering plenty of annual cultural events, film festivals and lots of live music scenes. This is why Austin's official slogan is The Live Music Capital of the World. There are many universities and schools in the city. Before relocating there, here are a few tips and some more interesting and useful information which will help you with and before your move.
Moving to Austin – What to Know
Climate
The climate in Austin is humid subtropical. Summers are hot and winters are with mild days, and cool to cold nights. There is not much rain in winter. Snow falls rarely. July and august are the hottest months of the year. If you don't like lots of snow and very low temperatures, then you will love living in Austin.
Economy
The technology and defense industry sectors in Austin are highly developed. The city has a lot of growing businesses and is one of the best places for making business and a career. The region has a high concentration of high-tech companies. Some of the biggest employees include the City of Austin, the U.S. Federal Government, the State of Texas, universities, high-tech companies, pharmaceutical and biotechnology companies, and of course there are many local companies and firms.
Neighborhoods
There are plenty of neighborhoods to choose from. The official website of the City of Austin provides details on schools, libraries, places to have fun, etc.
Fun
There are lots of parks and lakes where you could go for a walk, go cycling, biking, swimming, etc. Austin is a great place for living for the whole family because it offers both education and career opportunities, and a long list with things to do in your spare time.
Move to Austin Guide & Checklist
Consider what the climate is like before packing your clothes for a move, and also during what time of the year you will choose to relocate. If you want to move in winter, for instance, pack the summer clothes first. Winter moves are generally more difficult and it is advisable that you get moving help.
There are lots of attractions and things to do in Austin. Before you choose to relocate there, you could take a look and make a trip to get to know the city a little bit. Surely your family will appreciate the idea and accept it more easily once they see that their life will continue in a wonderful place.
When moving to Austin, it is recommended that you use Austin moving services, especially if you are relocating long distance. A professional moving company could help make your move easier and simpler. You can fill in a quote – it is very easy to do, quick and free.
Look for a job before moving, especially if it is not among the most developed sectors mentioned here in order to make sure you will not lose time to look for one after you arrive.
Have some spendings on you before moving, especially if you don't have a job. Also, when hiring movers, have an additional amount of 10% – 20% of the total moving cost in case extra expenses occur which often happens. Most people rarely manage to calculate precisely how much their move will cost them and underestimate it or forget some spending that need to be made.
If you have small children, look for a babysitter for the day of the move. If you have pets, you could look for someone to take care of them during the move. You don't want them walking in your feet and you don't want them to get hurt accidentally, right?
Make lists with tasks to do, people to call and deadlines. Your moving organization will be much easier if you take a different approach at it.
Plan the type and amount of moving materials that you will need. It will be easier and more efficient for you to go shopping for them once you know what you will need and in what quantities.
Austin, Texas, is a wonderful place to be at and live in. If you are thinking "Should I move to Austin, Texas?", surely this article has given you some food for thought and a good start in your moving research. We hope that these tips here above gave you a hand in your moving organization, and that your relocation will be successful with our help. If you found this article useful, please share it so that it could help others as well. Thank you.